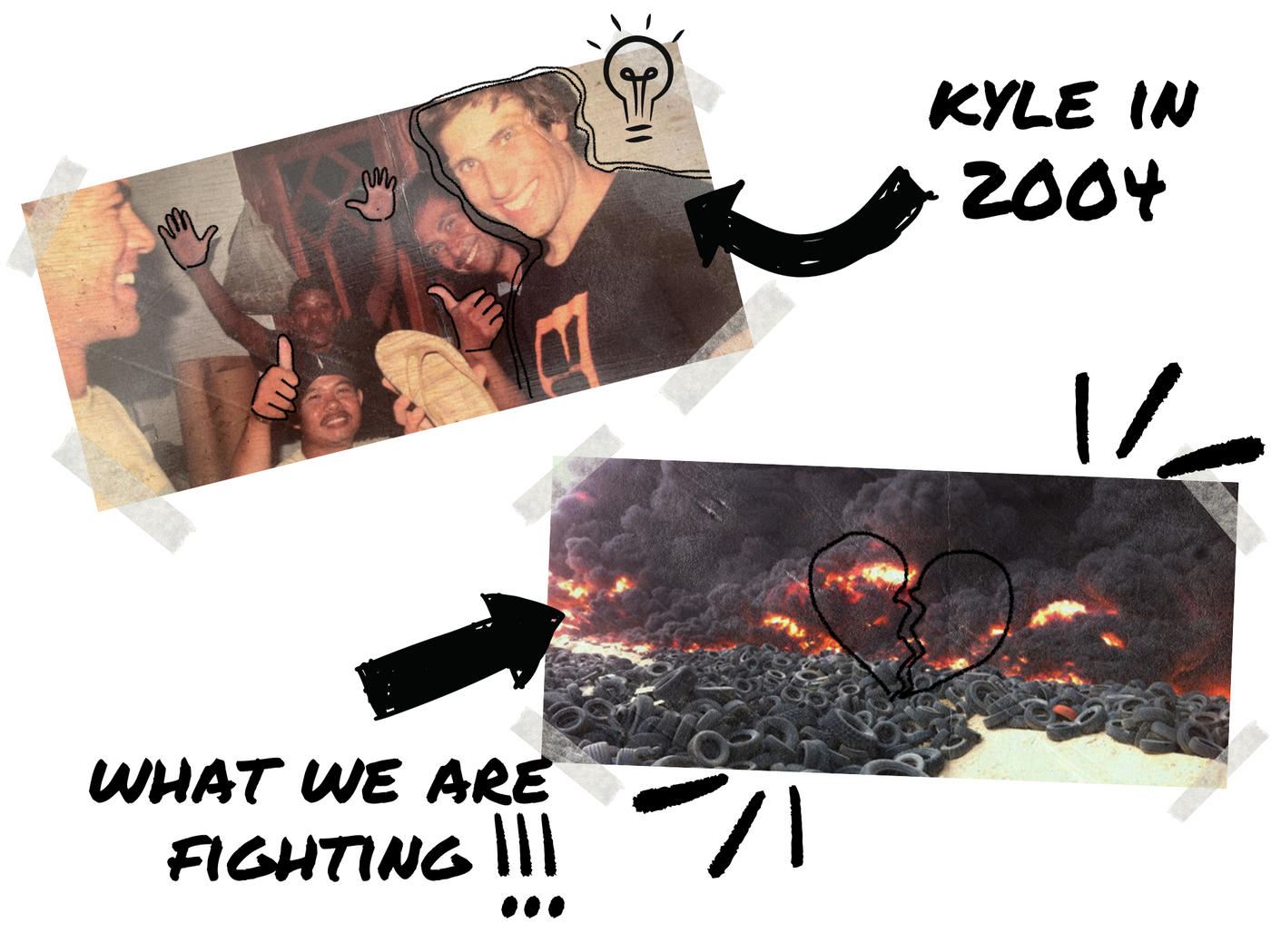 The roots
2004
Kyle Parsons was walking in Seminyak, when his sandals broke. Left barefoot on the sidewalk, he needed a solution. Inspired by a rustic pair of tire sole sandals found in a boutique, the concept for Indosole was born. The idea was to combine the natural and artistic elements of Bali with a comfortable product, addressing a worldwide pollution problem.
Each year billions of tires are thrown into landfills or are polluting our lands, and they do not decompose. These tires are breeding grounds for mosquitos which spread nasty diseases like: Malaria, Dengue, Zika and more. The waste tires are also being burned for cheap fuel which is very toxic for the earth and our health.

Since day 1, the Indosole mission has been to save waste tires and other materials and give them new life as soles for our footwear.
Soles with souls
2006-20016
With an official launch in 2009, Indosole sandals were handcrafted with love using an organic process with motorbike tires as soles right here in Bali. The supply chain was wholly local and with the lowest carbon footprint.

Deus Ex Machina became was our first local retail partner in 2010. For years, we handmade 10,000-15,00 pair per year and delivered small batch - imperfect sandals to various areas of the world and registered as a B Corp in 2014.

A partnership with Indonesia's talented artisans allowed us to improve our product step by step and learn how to work with tires. The learning curve was steep, with many failures as well as successes.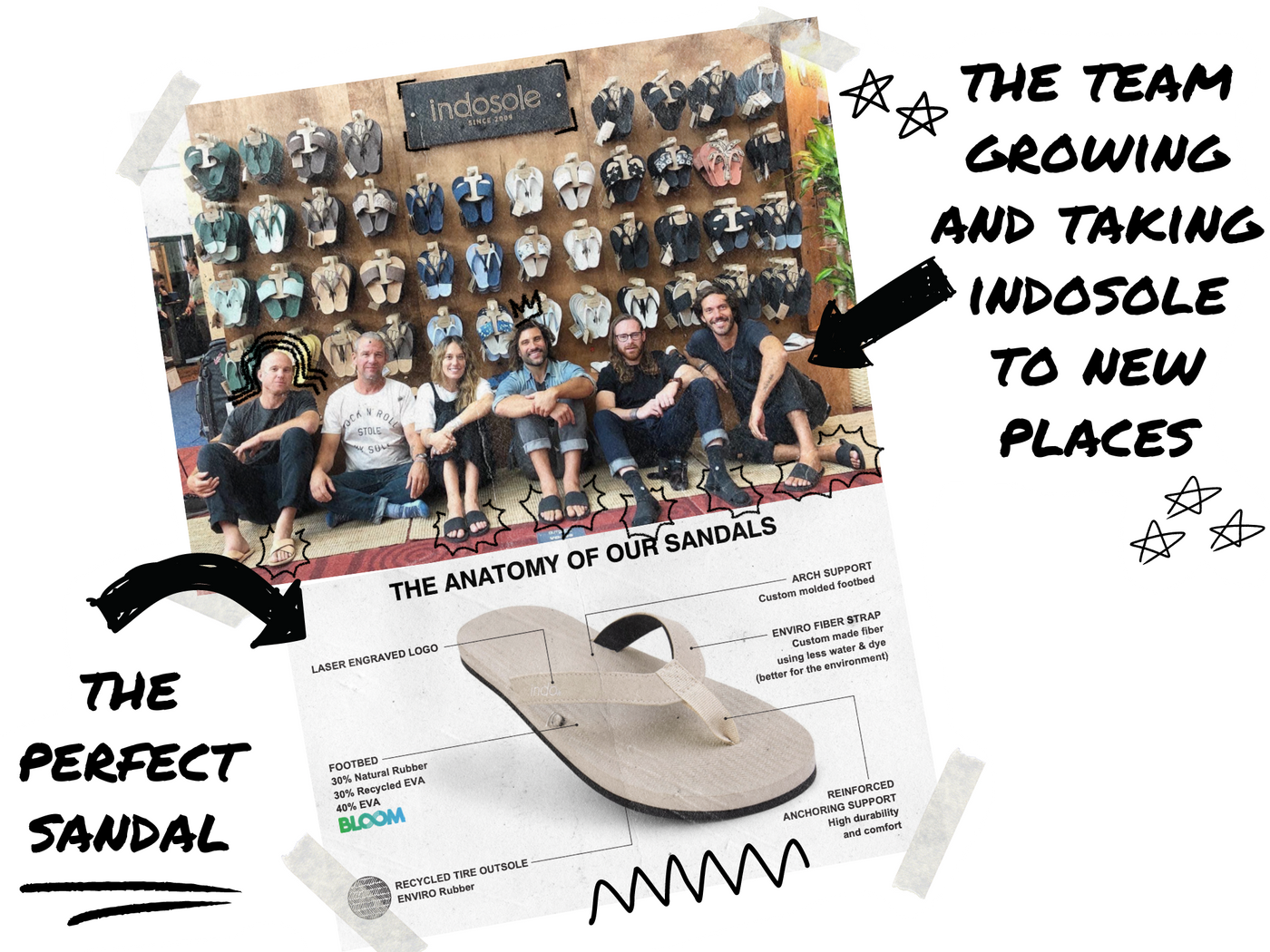 An Evolution of Process
2017-2021
In early 2017, the demand for Indosole was growing. Due to a bottleneck in production and inability to create a viable financial business, we went back to the drawing board.

We realized that in order to survive, we needed to streamline our processes and scale volume in product while making a greater impact at the environment's bottom line.

Our new quest was to use 100% of each tire while creating "The Perfect
Sandal." We spent 2 full years re-engineering our SETT tire process and developing the ESSNTLS sandal line you now see before you. Our goal has been to make the most ECOnomical sandals, at a fair price point and with all sourcing and manufacturing right here in Indonesia!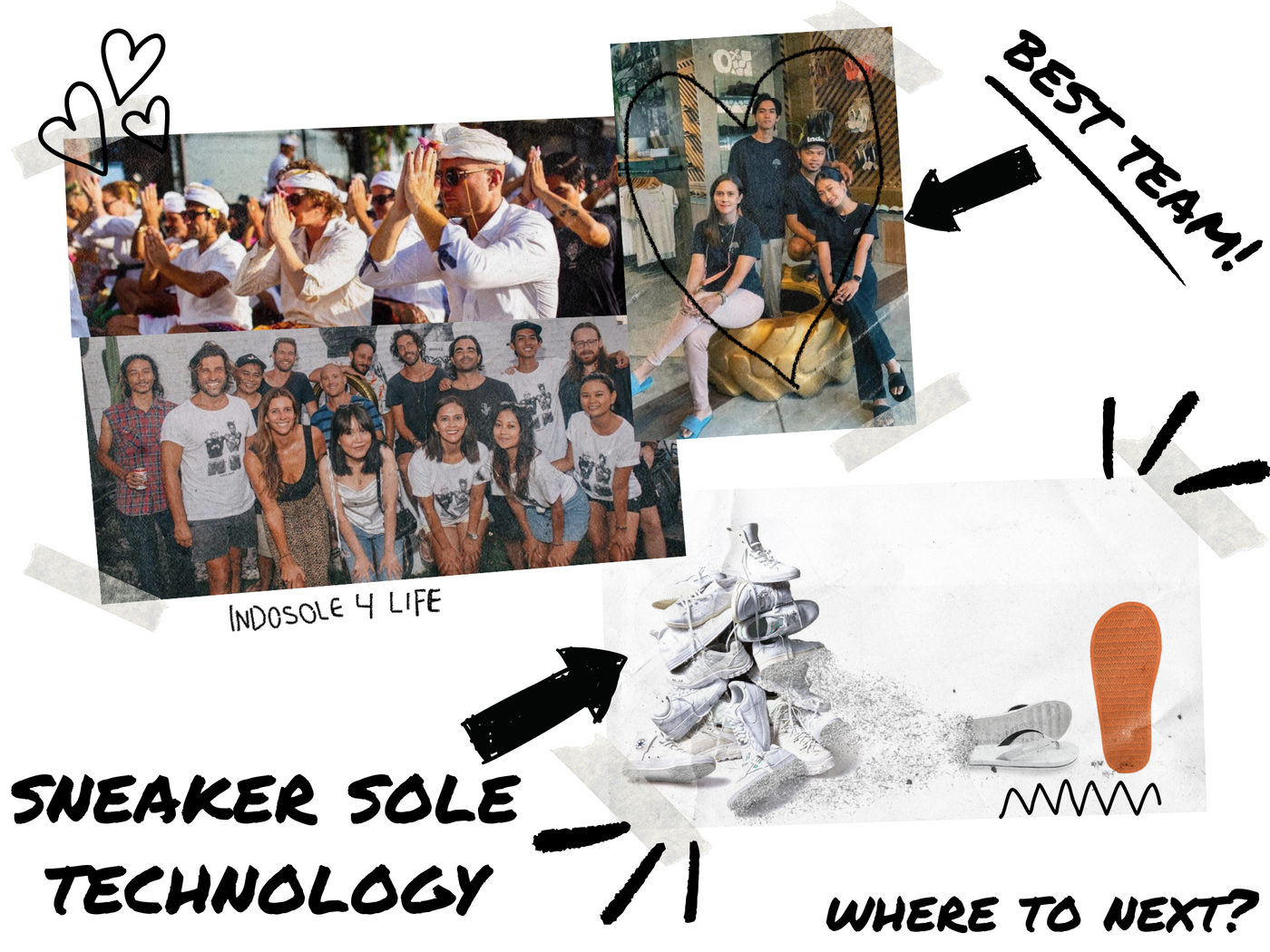 Present Day
2022
We are distributed to 30+ countries worldwide and expanding in SE Asia with 3 shops in Bali and an HQ in Canggu.

Our goal is to get people thinking on a higher level while making environmentalism fun. If a pair of Indosole sandals can elevate aconsumer's awareness towards purchasing more responsibleproducts across their daily lives, then we feel that we are doing our job.
By streamlining the manufacturing of our footwear, we are now able to reduce and reuse even more waste and give it new life as soles for our sandals. In 2022 we have launched our "Sneaker Sole Technology" which adds vibrant colors and a whole new grip on reality."